Crozet Master Plan Kickoff Workshop
Share your vision for the future of Crozet!
Monday, September 9th from 6:30-8:00PM
at Western Albemarle High School Cafeteria
The Master Plan is a visionary document used to guide how development and public investment happens in the future. Your participation is key to this process!
Join us for a fun night where we'll learn about the Master Plan and how the County plans for the future, and share thoughts and ideas about the future of Crozet through conversation and activities.
The Crozet Community Association (CCA) is helping to host and sponsor this event and the workshops to come.
Dinner (pizza from Sal's) will be available at the workshop on Monday night, September 9, as well as an activity center for the children (Lego Challenges and drawing stuff).  This children's activity center will have aides there to assist and will be in the WAHS Cafeteria, where all parts of the Workshop will also take place, including the four breakout sessions around the sides of the room, where parents can keep an eye on their children.
About the Master Plan
The Crozet Master Plan is the County's guiding document for land use, transportation, and parks decisions in Crozet.   This is the second revision to the Crozet Master Plan.  The original Crozet Master Plan was adopted in 2005 and revised the first time in 2010.  The current Crozet Master Plan is available for reference at the Crozet Library or online at Albemarle County's website.
From September through December, Albemarle County will host a series of community conversations and workshops to identify an inclusive and shared vision for the future of Crozet. Focus area and topic-specific workshops will begin in January 2020, as informed by your input during the visioning phase. All are welcome (and encouraged!) to attend the forums that interest them.  The Crozet Community Association is helping with hosting these events and highly encourages your active participation and attendance.
Stay up-to-date on upcoming meetings and events. Sign up for the Crozet Master Plan A-mail list.
Do you have questions about the Crozet Master Plan? They'd love to hear from you. Please send your questions or comments to Neighborhood Planner, Andrew Knuppel
Save the Dates!
Upcoming Community Conversations:
Tuesday, October 1st from 6:30-8:00 pm at WAHS Cafeteria
Thursday, November 7th from 6:30-8:00 pm at Field School
Click here for tentative schedule for the Crozet Master Plan Revision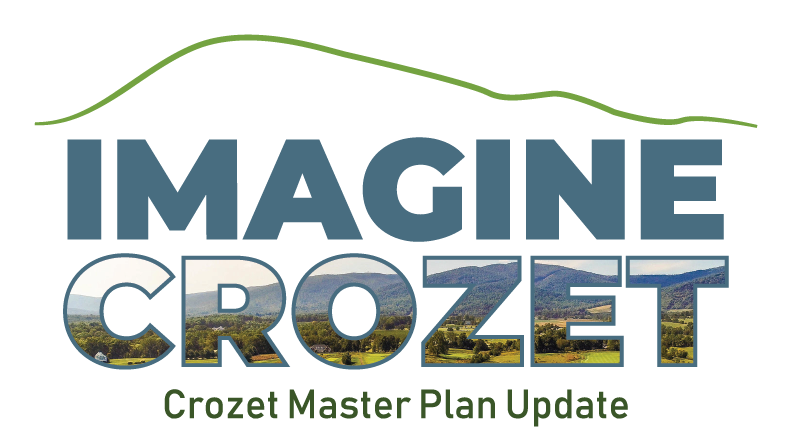 #imaginecrozet